Hello, Genshin Impact fans.
Today let's talk about the War drum sound of victory in Genshin Impact: where to find the blueprint.
In Genshin Impact, the War Drum: Sound of Victory is a decoration piece used in the serenity kettle and is part of the Garden of Justice set. In this tutorial, you will learn where to find its blueprint, create this piece of furniture, and exactly what it is for.
Where to find the blueprint of the War Drum: Victory Sound
You will need to take up the Moon Abyss quest chain given by Priestess Tsuyuko and then wait for the start of the Heart of Watatsumi world quest. As part of it, you will need to go to the cave. If you have already completed this mission, head straight to the specified location. The screenshots below show its location.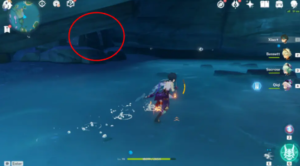 Once inside, go to the left side and find the pile of cobblestones. Destroy it with melee attacks. There's a precious chest hidden right behind it. Open it, and you'll find two blueprints: a ceremonial altar and a war drum: the sound of victory.
How to create a war drum: the sound of victory
Now go back to your abode and talk to Fluffy. Select the "Make Decoration" option and create the desired decoration item by spending the following resources:
Four units of fabric.
Four units of blue paint.
Eight pieces of maple.
It takes 16 hours and 90 adept energy to make this item. It increases the load by 24 units. Recall that you can speed up furniture creation with an Adept's Speed Vial.
Once you have created a drum, you can place it in your area. However, we advise against it – it's better to use it with the Garden of Justice set. If you then invite Kujou Sara into it, you get a fragment of Vajrad Amethyst, 20,000 Mora, and 20 Primogems.